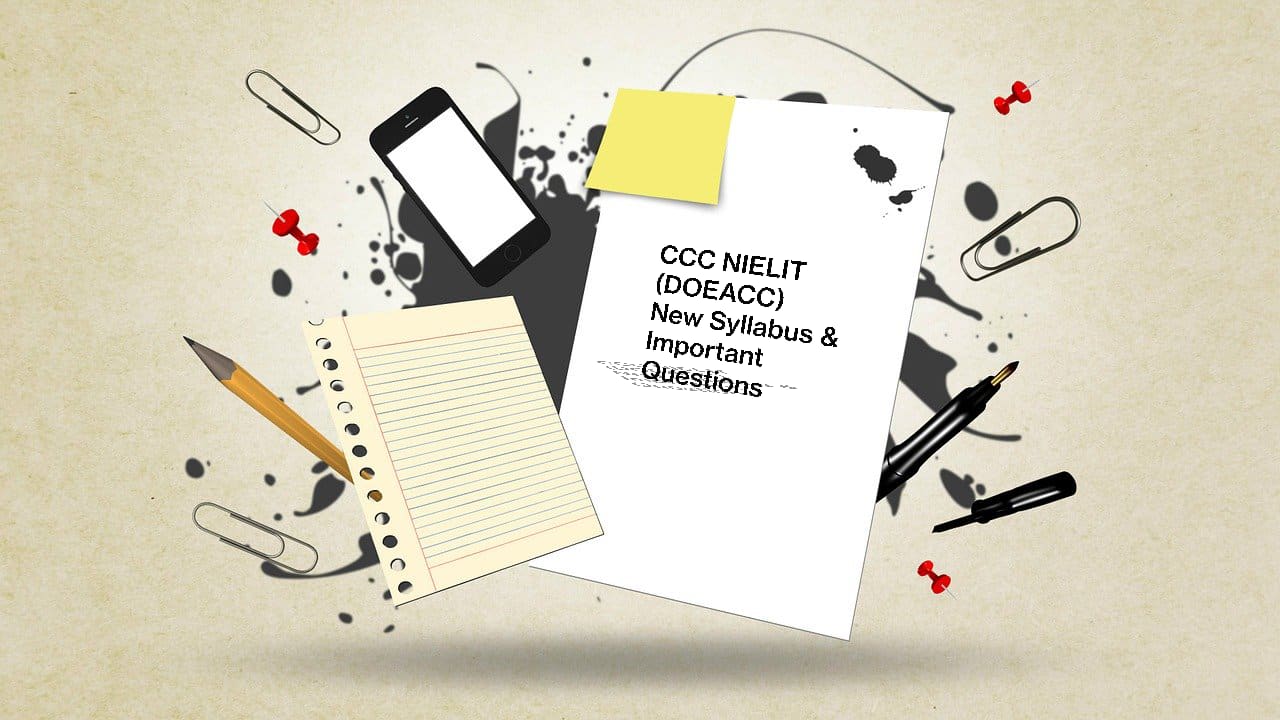 CCC NIELIT (DOEACC) New Syllabus & Important Questions
CCC CCC New Syllabus CCC Questions
CCC stands for Course on Computer Concepts.CCC is a computer literacy program that was recommended by the National Task Force on Information Technology Software Development.CCC is a basic IT literacy program designed for the common man.
CCC offered by NIELIT under its Digital Literacy Program. In this course you can accesses the computer and enjoy the world of information technology.
Duration:
CCC course duration is 80 hours that include 32 hours of theory and 48 hours of practicals. This course can also be offered as 10 days full time intensive course.
CCC New Syllabus:
Chapter-1: Introduction to Computer
Chapter-2: Introduction to Operating System
Chapter-3: WORD PROCESSING
Chapter-4: SPREADSHEET
Chapter-5: Presentation
Chapter-6: INTRODUCTION TO INTERNET AND WWW
Chapter-7: E-mail, Social Networking and eGovernance Services
Chapter-8: DIGITAL FINANCIAL TOOLS AND APPLICATION S
Chapter-9: Overview of Futureskills and Cyber Security
Important Questions:
Q1. An electronic tool that allows information to be input, processed, and output?
Ans. Computer
Q2. The brain of the computer. This part does the calculation, moving and processing of information ?
Ans. CPU
Q3. Part of a computer that allows a user to put information into the computer?
Ans. Input Device
Q4. Pressing _____ is a quick way to cycle between open program windows.
Ans. Alt +Tab
Q5. A device that provides emergency power to your computer conditions the voltage, and protects against powers surges are called a _____.
Ans. UPS = Uninterruptible Power Supply
Q6. A mouse, trackball, and joystick are examples of _____.
Ans. pointing devices
Q7. What is MS-Word?
Ans. Word processing software
Q8. To cut the selected text, these keys should be pressed.
Ans. Ctrl + X
Q9. What is the internet?
Ans. A vast collection of different networks
Q10. IPv6 addressed to have a size of
Ans. 128 bits
---
Author
In EdTech we publish new articles on digital education, online courses free or paid, programming launguages etc.
---